Description
Demo Access:
User Access: http://smmking.buydigitalproduct.online
Admin Access: http://smmking.buydigitalproduct.online/admin
Admin Login: Username: admin || Password: admin
Tired With Paying Rental Fees Every Month ? Run Your Own SMM Panel Just In Few Minutes. Fully Dynamic, Automated, Secure , Safe And Scalable SMM Panel At Very Reasonable Cost! SMMKING – Social Media Marketing Panel is an Cheap SMM and SEO Service Reseller Panel Script, where People Buy Social Media Service Such as Facebook likes, Twitter followers, Instagram followers, YouTube views, Website Traffic and more services. SMMKING Support Almost All API'S Globaly. SMMKING Also Has own API Connectivity Solution.

WHY SMM KING:
API Ready.
Complate Own Panel for Lifetime.
Fully Automated.
Powerful Admin Panel.
Easy User Panel.
Ready Payment Methods.
Different Price Setable For User.
Easy Customisation.
Order Processing.
User API Enable.
Template Editor.
Free Upgrade Facility.
User Features OverView:
Easy to signup/ signin.
Secure User Dashboard.
Forgot Password / Profile Manage.
Service Listing.
Announcement Features.
Contact Faciity.
Easy to Place order.
Mass Order System.
Order History.
Automated Deposit Method.
Deposit Logs.
Transection Logs.
Support Ticket Desk.
Global API Connectivity.
Admin Features OverView:
Secure Unique Informative Dashboard.
Categories Management.
Service Management.
Orders Management.
Gateways Management.
Api Settings Management.
Support Tickets Settings.
Support Tickets
Pending Support Tickets
Website Settings.
General Settings
Email Template Settings
Interface Settings.
Logo Icon Settings
Frontend Settings
Users Management
Users Management
Banned Users
Broadcast Mail
Transaction Logs
Deposit Logs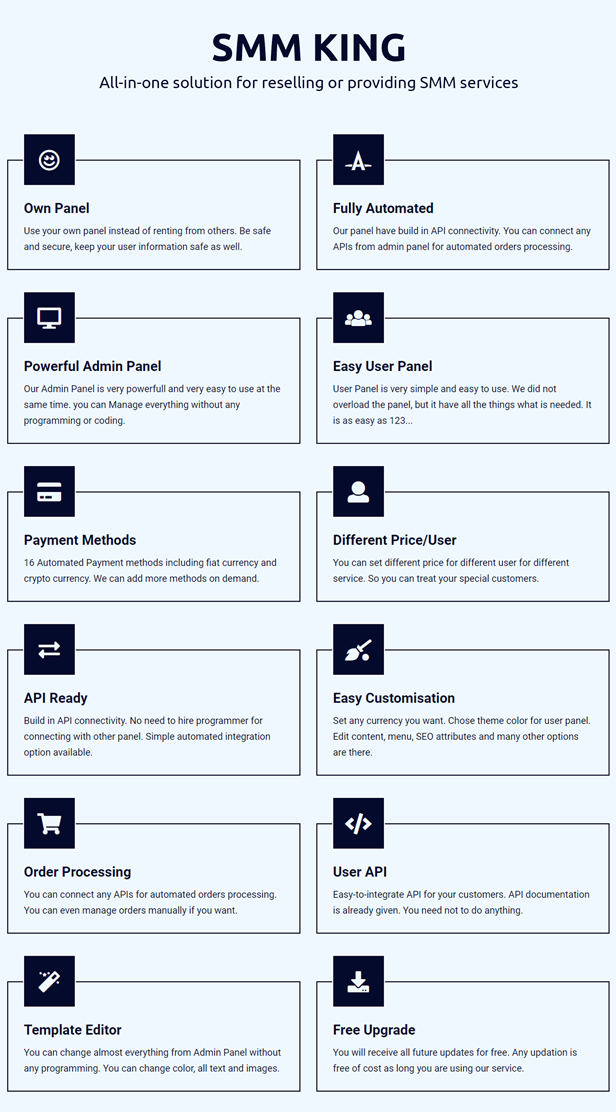 Script Comes With:
Excellent support with a fast response rate.
Fix any bugs or broken content.
Help get you setup and installed!
Secure Database that uses prepared statements so no SQL Injection!
Protects against CSRF attacks!
HTML Filter to protect against XSS attacks!
Built using the latest Strong LARAVEL Framework.
Passwords are encrypted By bcrypt encryption.
You should need GMP Extension to run it.